I HAVE to give my 2Centz on this… I REALLY REALLY REEEEAAALLLYY could not let this slide.
So if you've been following this shitty litty sticky situation, you already know that Rob & Chyna aren't together anymore and that legal action has been taken to keep Rob away. But lets do a recap to see how we got here, READY?
-Chyna is a stripper and video girl and becomes friends with the Kardashians
-Chyna dates and has a baby with YMCMB rapper Tyga
-Tyga begins dating one of the Kardashians (the youngest one 🙄🤦‍♀️)
-Chyna plots revenge to destroy the Kardashians
-Chyna dates Rob (The only male Kardashian… who happened to be ostracized by his sisters and pushed off their TV show because of his weight)
-Chyna and Rob have TV Show on E!
-Chyna and Rob get Married and have baby (who is the only real heir to the Kardashian throne)
-Rob allegedly cheats. Chyna Cheats.
-Rob and Chyna are happy. They are not happy
——————Here's where the mess really begins to spill out into the street————————
-Chyna send Rob video of her kissing another man whilst laying in "their" bed
-Rob is heartbroken.
-Rob posts screen shots and private pics of Chyna, 2 men she allegedly had been sleeping with (@ferraritru3 and someone named "Meechie"), and conversations between Chyna and Rob and other people on Instagram.
-Rob is blocked from Instgram and moves onto Twitter to continue his rant.
-Chyna posts unphased snapchats of her jewelry and new hair whilst filing legal documentation against rob (restraining order and law suit for revenge porn)
-Chyna hits the media cucuit with interviews on Good Morning America, People Magazine, E! News, and more
-Ferraritru3 is rumored to being looked at for the next season of LHH:Atlanta
**DEEP SIGH. THAT WAS EXHAUSTING!! and I'm only the recorder… not even living through it and I know I left parts out.**
Sooo.. lemme just say: as much as I like Kim Kardashian and Kendall Jenner (the rest of them can kick rocks.. except Scott. Scott a real nigga.. and I LOVED Khloe until she ditched Lamar Odum), I was ALL HERE for Chyna's game of Chess and plot to destroy the family. Her friend's lil sister stole her babydaddy and didn't have nothin to say about it–Can a bitch get a warning!?– So I was HERE FOR IT!!! 🙌👏🙌👏. But!! here's where she lost me… and I'm pretty pissed about it.
Rob Kardashian could have safely assumed Chyna wasnt the faithful type. Shit! WE ALL KNEW she wasn't going to be faithful.. even people with no exposure to scammers seen something wasn't right when Rob & Chyna got together! That's not even to call Chyna a scammer but we all seen there was a game being played… Here's where I take issue: WHY BLATANTLY DISRESPECT THAT MAN?! He knew you were messing around and still was shoving cash up your ass to make sure you, Chyna, the mother of his child, were STILL good, still (somewhat) happy, and to let you know he still loved you. So
WWWHHHYYY IN THE FUCK
would you send him a video of you with another man? HE ALREADY KNEW! WHY GIVE HIM THAT!?! I'm not above running these niggas, especially when they already know wassup (I love the ones who know their role and play it well) but never would I start giving away free ammunition to take me out. Never would I send a video of me and my one nigga to my other nigga (especially the father of my child). That shit, I really can't get with it.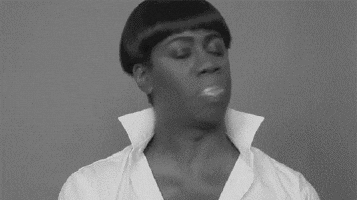 I'm sorry but her antics disgust me. I was wit it then I wasn't.
And from a PR perspective, she got alot of buzz going in alot of different directions, which isn't necessarily a bad thing but I personally don't agree with her tactics to generate the buzz. Like, Girl, you want to be in People Magazine and be on GMA? Why don't you put more into your products and promote them there posing as a make-up mogul? How bout being a mom has changed your life? How bout offering to reveal juicy Kardashian secrets without disrespecting ya babydaddy? (Media outlets would've paid big money for it). Ferrarri wanna get on too? Why not just PUT the nigga on through a few phone calls and follow ups? You have connects. AND SPEAKING OF CONNECTS…
HOW IS IT…
that KRIS JENNER… with ALL her connections to the media, couldn't pick up the damn phone and hault production of anything happening involving BlacChyna?? She has the juice and the sauce to get that done… I don't understand. And Chyna put together a legal team to take down Rob, How is Kris even standing for it?
(The difference between a black family and a white family…. Someone would've been at Chyna's door ready to beat her ass immediately after receiving the video of her and another man… Rob looks like he's left out to dry and there is no one at his defense.)
Rob could've done a bunch of other things instead of taking to social media because all it did was expose him as a sucka and make him a target (of scam AND ridicule).
Look, forreal forreal, I'm done. This was all a publicity stunt so in that case, she got out of it what she came for… a Kardashian baby and exposure. As far as I'm concerned, mission accomplished. But I am no longer a fan of BlacChyna… that line of disrespect is too far out there for me. I wanted her to win and it looks like technically she did But I will no longer be patronizing her businesses or show interest in anything else she touches… My disgust has created indifference. I DO pray that Rob finds him a woman he can love and spoil and will treat him right.